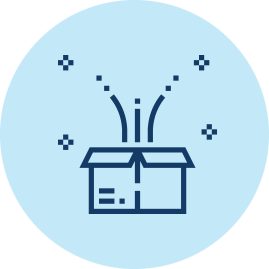 Affiliate Program Setup & Deployment
Setting up an affiliate marketing program can be a little overwhelming for any company. Fortunately, Bearcat Media has expertise in the technology and publishers that can work best for your company, products, growth requirements, and target audience. We can work with you on every aspect of your affiliate program set up and deployment from the program design and set up through to defining the best partners and customizing your technology that is needed to scale. If you're considering entering the performance marketing arena, Bearcat Media can ensure that your program is set up properly from the start.
The Timescale
When you're preparing the launch of a new network platform, it will take time to design the best set up, growth strategy, and launch that is tied to your specific objectives, needs, and operational efficiencies.
While you may be keen to get started, it is crucial that the assets and technology are set up to adequately support your plan. This will help you check your affiliates have all they need right out of the gate to be successful, minimizing the burdens of onboarding experiences. It can also ensure that your tracking is optimized, accurate, and integrated into your complete marketing mix.
Typically, the design, set up and launch of a new program can take approximately four weeks, but a full program migration may take several months. The Bearcat Media team can discuss your requirements and provide you with a timescale.
How Long to Create a Profitable Revenue Model?
A new program launch typically takes up to 12 months to scale into a break even or profitable revenue model. This is similar to the time and investment needed to build your SEO program. Fortunately, the Bearcat Media team has the expertise to avoid potential pitfalls, understand the technology requirements, and know which partners to contact first to drive the results in both the short term and long term to maximize your results.
How Affiliate Program Set Up & Deployment Works
Whether you want to set up a new affiliate marketing program or need help with an existing one, the Bearcat Media team can help. Our set up and deployment plan cover the following key areas:
Pre Launch:
Consultations on the appropriate affiliate payment models to use
Competitive analysis on immediate competitors or closely related
merchants running affiliate programs
Negotiations of the preferred affiliate platforms, both network or inhouse to secure the best deals.
Set Up:
Guidance on structuring your affiliate payouts including tiered
commissions and bonuses
Recommendations on affiliate cookie life length
Considerations and recommendations of the locking period
Consultations for creative development
Compilation of the Terms of Service, search guidelines, and any related
policies for your affiliate program
Creation of a list of keywords for affiliates to find your program within
the platform.
Recommendations and implementation of automated affiliate approval
Copywriting for your:
Affiliate program description
The email received by affiliates applying into your program
The email received upon approval
The email sent to those declined from your program/li>
Uploading and deep linking of banners and text links
Recommendations for your coupon strategy
Pre Launch:
Requesting the activation of your affiliate program
Announcing your launch via social media channels
Post Launch:
Advice and guidance on the tools to monitor and address any policy specific compliance issues.
Since industries change, technology evolves, and partnerships shift, your company needs a team with the knowledge and expertise to compete and scale effectively. It takes expertise, investment, time, and consistency to develop a successful affiliate marketing program. However, with the right team, your affiliate program could contribute up to 50% of the sales revenue for your company.